W. Lewis Bowler
1884 - 1918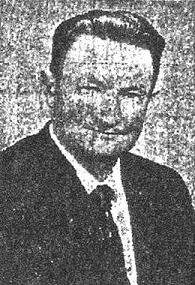 W. Lewis Bowler, 56 of Veyo died Dec. 18, 1967 at 8:50 p. m. at the family residence of cancer.

He was born Jan. 20, 1911 in Gunlock, a son of John Henry and Lasina Almena Truman Bowler. He married Mildred Bunker Sept. 22, 1930 in St. George. The marriage was later solemnized in the St. George Temple.

Mr. Bowler moved to Veyo with his parents as a young boy and has lived there all of his life with the exception of several years spent in Mewquite, Nev. following his marriage.

He was an active member of the Veyo Ward of the LDS Church; Past Supt. of both the Sunday school and MIA; High Priest group leader, general secretary for the Adult Aaronic Preisthood; Bishp of the Veyo Ward from 1956 to 1962; Presidetn of the Gunlock Cattle Assn., Past Pres. of the Veyo Irrigation Co., Board member of the Baker Reservoir Assn., Board member of the Washington County Dairy Assn., Board member of the Washington County Farm Bureau. His profession was dairyman and rancher.

Mr. Bowler is survived by his wife; two sons and three daughters, Fenton Lewis Bowler, Veyo; Robert Crosby Bowler, Tuscon, Ariz; Mrs. Eugene (Nola) Chadburn, St. George; Brenda Lou Bowler and Bertie Susette Bowler, both of Veyo; three brothers and three sisters, George Henry Bowler, Gunlock; Milton Albert Bowler, Ceder City; Richard Truman Bowler, Veyo; Mrs. Earl Nellie Hiatt and Mrs. Albert Ulrich, both of Fallon, Nev.; Mrs. Marvin Chadburn, Veyo.

Funeral services will be conducted Thursday at 1 p. m. in the Veyo Ward Chapel with Bp. W. Vaughn Jones of the Veyo Ward officiating.

Interment will be in the Veyo City Cemetery.