Virginia Bunker Harman
1908 ~ 2002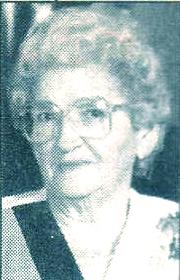 Mother passed away November 1, 2002 at her home in Taylorsville surrounded by her family.

Born Dec 6, 1908 in Bunkerville, NV to Mary Terry and Ezra Bunker. Married Orvin "Erv" W. Harman June 15, 1931 in Salt lake City; their marriage was solemnized in the Jordan River LDS Temple. She enjoyed sewing, cooking, gardening and spending time with her granchildren and great-grandchildren. Mother was a quiet, gentle woman.

She is survived by her children, Shirly Wigren, Maurine Frazee, Deon (Grant) Roberts, Dean W. (Maurine L.); 10 grandchildren; 26 greatgrandchildren; and brothers, Robert E. Bunker, C. Elwood Bunker. She was preceded in death by her husband Feb 14, 1996; and sons-in-law, John H. Wigran, Clarence E. Frazee.
A funeral will be Wed. Nov 6, 11 a.m. Taylorsville LDS Stake Center, 4845 S. Woodhaven Dr (1365 W.). Friends may call Tues. 6-8 p.m. Memorial Mortuary, 5850 S. 900 E, Murray, and one hour prior to services at the church. Interment, Valley View Memorial Park, 4400 W. 4100 S., West Valley City.