Shellie Sandall Loutensock
1960 - 1991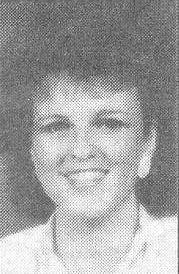 Our beloved wife, mother, daughter, sister and friend, Shellie Lynn Sandall Loutensock, 31, died October 11, 1991 at the home of her other mom, after a long courageous battle with cancer.

Born January 11, 1960 in Salt Lake City to Wayne and LaVelle Hill Sandall. Married Jody (Toad) Loutensock August 4, 1978 in Magna. Member of the LDS Church. Graduated from Cyprus High School in 1978. She worked at the Magna Water Company for 12 years.

Survived by her loving and devoted husband; her beloved sons that were the delight of her life, A.J. (12), Lucas (9), Rawley (7), and her parents, all of Magna; brothers and sisters, Jeff and Chris Sandal, Magna; Bruce and Stacey Anderson, Fountain Green; Steve and JoAnn Sandall, West Jordan; Sandra Rae Sandall, Oakland, Calif; grandparents, S.L.(Curley) and Maxine Sandall; mother and father-in-law, Joyce and Albert Loutensock, all of Magna; sister-in-law, Kathy and Marvin Hatch, West Valley City; numerous friends, uncles, aunts and cousins; four nieces and four nephews.

She will always be remembered for her bright sunny smile and friendliness to everyone. Special thanks to Dr. Christopher Jolles and his staff at 2-East at the University Hospital, and to Marge Bernhardt of Hospice, their help and love were deeply appriciated.

Funeral services will be held Tuesday, 12:00 noon, Lake Ridge 14th Ward, 2825 South 8000 West. Friends may call Monday 6-8 p.m. at Peel Funeral Home, 8525 West 2700 South, and Tuesday, one hour prior at the church. In lieu of flowers, donations may be made to her son's trust fund at the Cypruss Credit Union, Interment Redwood Memorial Estates.