Mildred Bunker Bowler
1912 - 1997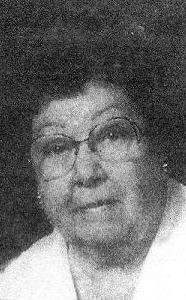 VEYO - Our beloved mother, grandmother, and friend Mildred Bunker bowler passed away July 11, 1997 in St. George of a heart attack. She was born Sept. 10 1912 in St. George, a daughter of Stephen Albert and Albertina Crosby Bunker. She married Willard Lewis Bowler Sept. 22, 1930. The marriage was later solemnized June 21, 1932 in the St. George LDS Temple.

Mildred was raised by her grandmother Crosby in St. George and spent most of her life in Veyo, where she raised her amily. She was active in church and civic activities, having been honored as "My Fair Lady" at the 1985 Washington County Fair. She was honored by the Washtonton county Republican Party for her many years of service. She was very active in the LDS Church, serving in many postions, but was espectially active in music within the ward, playing for sacrement meetings and all other organizations with the church and community.

Mildred was instrumental in the continuing improvement of Veyo City Cemetery and was very dedicated to its continual beauty.

Survlved by daughters: Nola Chadburn of St. George, Fenton(Margie) Bowler of Veyo, Robert (Sharon) Bowler of Caliente, Nevada, ________ (Jay) McAllister of St. George and Bertie Sue (Gilbert) Schmutz of Veyo; 10 grandchildren; 19 great-grandchildren and three great-great-grandchildren. She was preceded in death by her husband Lewis, infant son Willard, grandson Trevis Chadburn, son-in-law Gene Chaadburn, brother Clive Bunker and sister Leah Bucholz.

Funeral services will be held, Tuesday, July 15, 1997 at 11 a.m. at the Veyo LDS Chapel, Veyo. Friends and family may visit Monday, July 14, 7-8 p.m. at Metcalf Mortuary, 300 W. St. George Blvd., St, George, and Tuesday, 9:30-10:30 a.m. at the chapel prior to services, Interment will be in the Veyo City Cemetery under the direction of Metcald Mortuary, 673-4221.

Family suggest contributions be made to the Veyo City Cemetery in behald of Mildred in care of Metcalf Mortuary.