Mable Ann Moore Turpin Bucholz Bunker
1882 - 1971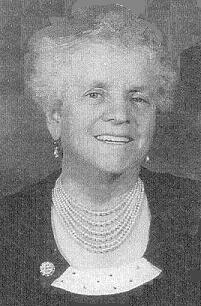 Funeral services were held in the St. George 5th Ward Chapel Saturday, Dec. 4, 1971 for Mable Ann Moore Adams Turpin Bunker, 89 years of age. Burial was in the Thomas riverside Cemetery near Blackfoot, Idaho under the direction of the Spilsbury Funeral Home of St. George.

She was born June 9, 1882 in Providence R.I. to George Henry and Ester A. White Moore. Married Thomas Adams Jan. 1, 1902 and later divorced. Married Leo John Turpin Sept. 1, 1913 and he died June 13, 1952. Married Albert Bunker April 8, 1954 and he died Aug 1968. She was an active LDS member and acted as Drama Director, Sunday School and relief Society teacher. She was a temple worker for 30 years.

Survivors are: son, Thomas Adams of Kennewick, Wash.; Mrs. Edward Esther Trahan of Pocatello, Idaho; Mrs. Theo (Marlan) Parsons of Las Vegas, Nev.,' Mrs. Ben (Leeliah) Martin of Boise, Idaho; Mrs. Joe (Thelma) Moesser of Salt Lake City. Also, son, Alan Turpin of Hemet, Calif.; Mrs. Glen (Nettie) Ellis of Blackfoot, Ida.; Mrs. Lewis (Mildred) Bowler of Veyo; Mrs. Charles (Leah) Bucholz of Richland, Wash. She had 58 grandchildren and 20 great-grandchildren. One brother, Harold W. Moore of Fort Smith Ark.