Garth Thomson Bunker
1944 - 2000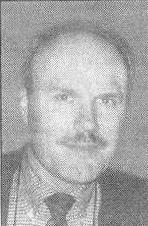 Garth Thomson Bunker (Tom), 55, beloved husband, father, brother, uncle, coach and friend, died on March 12, 2000 after a heroic and valiant seven month battle with pancreatic cancer. He was surrounded by members of his family, who dearly loved him.

Tom was born on June 21, 1944 to Elvin and Elva Thomson Bunker in Salt Lake City, Utah. He was raised in the Sugar House area, attening Hawthorne Elementary, Irving Junior High and South High School. He met his sweetheart, Susan Fenn and Irving Junior High in 1957 and after a ten year courtship, married her in Salt Lake City on December 2, 1967. Sealed in the Salt Lake 2/5/2010 Temple on June 2, 1979. They are the parents of Thomas Hartford (24), Jordan Benjamin (22), and Martha Belle (19).

Tom joined the United States Army in 1963 and after Basic Training in Monterey, California and Fort Sill, Oklahoma, served honorably in the Utah National Guard for eight years. He graduated from the University of Utah with a B.S. in Accounting in 1971. Tom became a Certified Public Accountant in 1978. He worked in accounting for eight years and became a partner in Wursten, Lewis and Bunker in 1979. He started is own business, Bunker and company in 1987 and owned and operated that form for 13 years. In December 1999, he merged his practice with Farrell Skidmore and the partners of BMPH and Company. He was deeply grateful to his employees, Charles, Tucker, Arlene Jones and Bryan Long for their dedication and hard work always, and expecially during his illness, and the transition of his business. He was a member of the American Association of Certified Public Accountants, and the Utah Association of Certified Public Accountants. He served as President of that organization from 1984-1985. He served on the Board of Directors both before and after his presidency.

Tom was a professional businessman who always tried to go the extra mile for his clients. Many of them became his life-long friends. He was a compassionate, kind and generous person. He gave of his time and resources to many people, organizations, and charities. Last summer he participated in a campaign drive for Muscular Dystrophy and for one day "went to jail" for the charity. Family, friends and clients "ransomed" him out of "jail" with donations. With the help of his secretary, Arlene Jones, he raised a substantial contribution for Muscular Dystrophy.

Tom was a special, loving husband who was a great help and support to his wife with her illness. He was a wonderful, dedicated father who loved being involved in his children's schooling and activities. He was there at every one of their events, with video camera and treats in hand. He loved baseball and coached Little League for eight years. He believed that young me could learn important skills in Little League that would benefit them in their school, work and personal lives. He alwasy had an encouraging word for every player. He twice coached his sones in All-Stars Teams. He said that "Besides his family, one of the highlights of his life was seeing the Boston Red Soxs, The toronto Blue Jays, The Oakland Athletics and the New York Yankees play in their home stadiums."

Tom is survived by his wife and children, three brothers and their wives, Karl (Colleen), Larry (Nancy) and Gaylen (Diane), who were always there for him, expecially during his illness. He is also survived by many wonderful nieces and nephews. He was preceded in death by his parents and in-laws, Milburn and Lla Fenn.

A special thanks to Dr. Greg Litton, Dr. Harker and the staff at Intermountain Hemotology and Oncology for their help and support. Also, a special thanks to the nurses in the Chemo Lab, Kendell, Holly and Judy, who made that experience such a positive one. A special thanks to Doug Bates for his inspiration and encouragement that meant so much to us. The VistaCare/Hospice Staff was so supportive and helpful. Their work in the last few days of Tom's life was greatly appreciated.

Tome would be delighted and honored if, in his memory, you gave of your time and/or resources to a Little League Team in your area or the American Cancer Society.

Funeral services will be held at 12 noon on Friday, March 17, 2000 at the Wasatch Lawn Mortuary Chapel, 3401 South Highland Drive, where friends may call on Thursday evening from 6-8 p.m. and on Friday from 10:45-11:45 a.m. prior to service. Internment, Wasatch Lawn Memorial Park.

Tom - you were a price of a husband and a king of a Dad. We will love you forever and miss you deeply, every day, for the rest of our lives.