Ethel Graham Bunker
1917 - 2001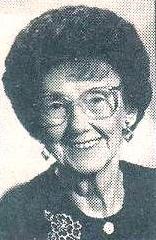 Ethel Mildred Graham Bunker, passed away May 19. 2001. She was born in Salt Lake City, UT May 21, 1917 to George Graham and Amie Wilson Graham. She married C. Ellwood Bunker Feb 11, 1944 in the Salt Lake LDS Temple. She served in a variety of positions as a faithful member of the LDS Church and as a young lady served as the Stake Gleaner Girl president and was a charter member of the Golden Gleaners in the MIA Program. Her many loves in this life were her husband, family, membership in the LDS Church, the Book of Mormon, directing music, and the women's Relief Society programs.

Ethel is survived by her husband, Ellwood; sons, James E., Kanab, UT, D. Bruce (Nedro), Monticello, UT, Jan G. (Shauna), Bradley S. (Laura}; daughter, LeAnne; daughter~in—Iaw, Claudia Bunker; 18 grandchildren; 12 great-granddtildren; and a brother; C. Melvin Graham. Services Wed. 12 noon May 23 2001 at the Forestview LDS ward chapel, 1111 E. Charlton Ave. (2815 S) where friends may call Tues. 6-8 p.m. and Wed. one hour prior to services. Interment, Redwood Memorial Estates.

In lieu of flowers Ethel requests donations to the LDS Church Missionary Fund. The family wishes to extend many sincere thanks and appreciation to the doctors and staff at the St. Marks Hospital and Rocky Mtn. Hospice. Directors, Jenkins-Soffe Mortuary.