Elvin Bunker
1903 - 1995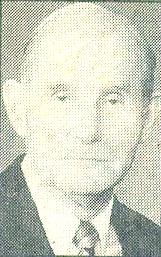 Elvin Bunker, 91, beloved father, grandfather and great-grandfather passed away Friday March 24, 1995.

Born August 21, 1903 in St. George. Utah to Ezra and Mary Elsie Terry Bunker. Married Heneritta Katherine Hansen November 26, 1930 in the Salt Lake LDS Temple. She died three years later. Married Elva Lourse Thomson September 1, 1937 in the Manti LDS Temple. She passed away Novemer 10, 1987, shortly atter their 5Dth anniversary. As a carpenter, he loved the work he did throughout his life. Many buiidings and structures in Utah are monuments of his labors. Active member LDS Church, having held many positions including stake missionary, priesthood teacher and leader, and temple worker. Served a Southern States Mission.

Survivors: four sons, Karl E. and wife Colleen, Larry E. and wife Nancy, Garth T. (Tom) and wife Susan, Gaylen K. and wife Diane, all of Salt Lake city; 15 grandchildren, two great-grandchildren; brothers, Robert E., C. Ellwood and Neii T. Bunker; sisters, Virginia Harman and Eddis B. Day.

Funeral services Tuesday, March 28, 1995, 12 noon, Larlin Mortuary Chapel, 260 E. South Temple, where friends may call Monday evening 6-8 pm and Tuesday, one hour prior to the service. Interment. Mountain View Cemetery.