Don Hale
1917 - 2011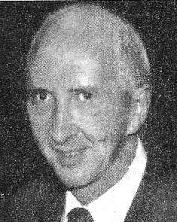 Your friend, Don Hale. who took great pleasure in serving everyone he met, passed away peacefully Saturday morning, January 29, 2011,

Whether serving at the age of 25 in the Utah State Legislature, at the age of 70. on the Salt Lake City Council, or in between and there-after at Hires Big H, Don determined to serve others his entire life.

Don was born December 15. 1917 in Grantsville, Utah. His father. Parley. and his mother. Olive, instilled in him a love for people and the will to work. Don started working at the age of 10 at his parents' grocery store, Hale's Market. and worked 80 straight years until the age of 90, 50 of those years at his hamburger stand, Hlres drive—ln. He smiled every day of his life because he so loved what he did that it never seemed like work at all. Besides, he married the beautiful Shirley Hickman in 1947. What qgreater blessing could he have had. None. Shirley happily served Don and their children Nancy Hale Marks (Mick), Lisa Hale Lowe (Doug1as). Jon Hale (Karen) and Mark Hale [Julie] for 57 years until she passed on in April 2004.

Three more things Don loved, education, travel, and his cherished membership in the Church of Jesus Christ of Latter-day Saints. Don often said that to be happy in life you need three thing - someone to love, something to do, and something to look forward to. Don was a happy man. Thank you Don and thank you Dad, for all that you have done for us. Your memory and legacy will long live with us all.

Dan is survived by 17 grandchildren and five great-grandchildren; brother and sister—in-law Dr. Robert O. and Lucy Hickman of Edmunds, Washington; and sister-in-law JoAnn Hickman of Provo. Utah.

Preceded in death by his dear wife Shirley; sister Cleo and brother-in-low Dale Roberts; brother-in-low Martin Hickman; sister and brother-in-law Helen Mar and Merlin Clark; and two granddaughters, Caroline Crandall and Chelsea Hale.

Funeral services will be held Monday, February 7, 2011 at noon at the Monument Park Stake Center, l32O South Wasatch Drive. Viewings will be held Sunday, February 6 at Larkin Sunset Lawn, 2350 E. 1300 5outh from 6-8:00 p.m. and on Monday prior to the funeral at the Stake Center from 10-11:30 Interment at Wasatch Lawn.

in lieu of flowers, please donate to LDS Humanitarian Aid or the Lowell Bennion Community Service Center at the University of Utah. Record memories online at Larkincares.com.