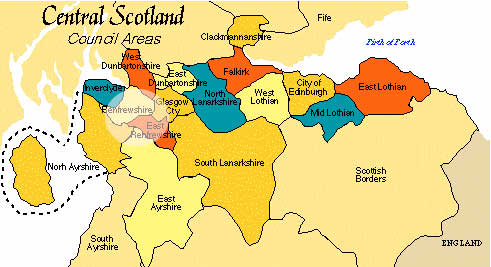 My Grandmother, Mary McQuarrie, was born the 23rd of August 1846, at (Climbreahead, renfrewshire) Kilmolcolm Parish, Scotland. She was the youngest child of Allen and Agnes Mathieson McQuarrie. Her brothers and sisters were Robert, Hector, Mary Graham, Neil, Agnes, and John.

After her father and mother were married, they went to live on a farm owned by Robert and Mary Holm. Her father worked here 16 years on this farm. The last three years, he suffered severely with a pain in his right leg. He had this leg taken off above the knee with a knife and meat saw without benefit of an anesthetic. He being no longer able to support his family, his wife, Agnes, had to work and wash to support them. Her sons helped with the farm work.



Excerpts from the Characteristics and Accomplishments of Hector McQuarrie
by John Gray McQuarrie, his son


In 1850, members of the McQuarrie family were still tenant farmers at Kilmacolme in the highlands of Scotland. About this time a family council was held. There were then eight in the family---too many for the small acreage to support. Allen McQuarrie, the father had his leg amputated perhaps three years before, had only a "peg leg." His sons were Robert, the eldest, about eighteen; Hector, sixteen; Neal, fourteen; John, twelve; Agnes, ten; and Mary, eight.

It was necessary for at least one of the boys to leave the home to go out on his own. Although Hector had never been more than twenty miles from his country home, he recognized that his father's handicap placed Robert as the responsible head of the family. He suggested that Neil and John were old enough to assist, but too young to go out into the world alone. He concluded that he was the logical one to leave. Beyond what he could carry in a knapsack, the family had nothing to divide---not even a donkey to carry his bedroll.

Industrial centers, like Edenbury, Glasgow, and Dumfrease, were strange to him---just as the Rocky Mountains would be to a college professor. It required courage, principle, and sacrifice for a country boy of sixteen to cut himself loose from all his boyhood moorings, not knowing where or when he could find new attachments. He had neither means, experience, training, nor mature judgement. If we can partially visualize the scene and sense the conflicting emotions as he walked away from home and family and the scenes of his childhood, we could pronounce the action nothing less than heroic.

When he reached Glasgow, his only resource was brawn and muscle. The way of least resistance and the one which promised immediate reward would be a job as a helper or roustabout in a shipyard, or a mucker ina coal mine, or a similar sort of job ona sailing vessel. Such employment promised immediate relief for his physical wants, but no future. He took the hard way.

He bound himself as an apprentice in a blacksmith shop. His wages at first would be a mere pittance. But when he became a journeyman he would have a trade---an opportunity to manage his own business. His decision was wise. His future experience proved that whether he be in an industrial center or on the last frontier, he would never be without gainful employment. In conquering the West and the establishment of Zion, he became one of the most important factors. In this decision he displayed both courage and wisdom.

During the late [eighteen]-thirties and early forties, some of the greatest men of the Church...opened up the British mission, which spread to the Netherlands and Germany. The people were ripe for religious reforms. The restored gospel was so logical, so scriptural, so like the primitive church in organization and ordinances that early missionaries had phenominal success. By the early [eighteen]-fifties their very success in gaining converts became a challenge and a menace to priests, ministers, and office-seeking politicians. The storm of opposition resulted in the martyrdom of Jeseph and Hyrum. The news of the expulsion of the Saints from Missouri and Nauvoo spread to the missions in north-western Europe, especially to the British Isles. The same classes of opponents used the same vicious propaganda that had been used in Kirtland, Independence, and Nauvoo.

In 1854, Hector heard the gospel message from Elder Baxter. He was a man without guile, like Andrew who knew the Master's voice and followed Him because the indes of the Gospel was in him. He follwed the elders in their street meetings, read and distributed their tracts. Soon after this association commenced, he applied for baptism. Public resentment was so strong against the Church that quite often the converts kept their baptism a secret from even their own families and neighbors. Although my father knew his parents were Calvinistic Scotch Presbyterian, he invited Elder Baxter to accompany him to his Highland home that they, too, might hear the warning message. This proved good news to the family. Robert, like my father, Hector, recognized the truth. The two other brothers and the two sisters followed the example of my father and Robert and were also baptized.

The father, Allen McQuarrie, did not yield his fixed opions until some time after they came to Ogden in 1857.



Hector heard the gospel while he was working as an apprentice in a shop. The missionaries came to the shop to talk to the owner. Hector listened attentively and then went to the meetings they held. He was converted and became a member of the Latter-Day Saints Church. He helped convert the rest of the family.



Excerpt from journal of Robert McQuarrie


In the year 1853 I heard the Gospel from my bro Hector and others, I became thoroughly convinced of the truth that I could have no peace until I embraced the same. I was baptized Sunday October 9th, 1853 in the river Clyde Kilmalcolm parish by Elder Robert Baxter and confirmed by the same Elder the same day in the Greenock branch of the Glasgow Conference.

Alexander McDonald, by bro. Neil, Margret Graham, Mary McKellan my cousin, and myself were all hired with Robert Holm as farm servants and all obeyed the Gospel at the same time. Alexander McDonald and Mary McKelan apostatised a short time afterwards.

May 29, 1854: My Master Robert Holm died and left me £100 and the same to my Mother, £25 to my Father, £20 to Neil, £600 to his widdow and the farm Stock which was valued at £350. I got the management of the farm and the Lord blest my labors.

Feb. 1855: My bro Hector emigrated from Scotland to Salt Lake Valley in connextion with the Robert Baxter and family.

Mary Holm, widow of the late Robert Holm died and left mother and myself about £1000 including the farm stock. She being my mothers aunt.

Aug. 24, 1856: I was realeased from acting as a teacher in the Greenock branch, the law of Tithing was established in the Greenock branch. After the death of Mrs. Holm I was warned by the Lord to leave the farm of Castle hill in May next, which was good news to me for I felt the time had come to prepare to gather with the saints in Zion.

Mar. 19, 1857: We left our homes and sailed from Greenock to Liverpool per Steamship Vanguard. Beside my fathers family we took with us Hamilton Garrick and Agnes Gray who after our arrival in Salt Lake became my bro Hector's wife. We staid in Liverpool 8 days and took passage on board the George Washington for Boston, with 816 souls on board. Before we set sail we were favoured with the presance of Elders Orson Pratt, Ezra T. Benson, and _________, The Presidency of the European mission, they gave us some good instructions and promied us a good passage and safe arrival in Boston. Elder James P. Park was appointed President of the Company, Jesse B. Martin and Charles R. Danna councilors with a host of Valley Elders on board. The second might we were at sea a storm arose and the noise of boxes and tin cans was terrible.

Apr. 17, 1857: The sea was very rough, the ship was rolling from one side to the other and upset some of the cooking (stoves) and set the ship on fire, but it was soon got out. One of the cooks was ill, scalded about the arms and head, another brother got his hands scalded, but soon got well.

Apr. 20, 1857: We arrived in Boston bay after 23 days sailing. The first mate said he sailed the seas for 32 years but never had better winds to take us into Boston. As soon as we cast anchor a terrible storm arose of wind, snow, & rain. We cast 2 more anchors. The storm continued so that we could not get into the harbor till Wednesday (two days later) about noon---we staid in the ship overnight.

Apr. 23, 1857: 4 PM we left Boston by rail, arrived in Albany on Friday ferried across the ________ river, took rail again arrived in Buffalo. On Saturday at 10 A.M. left Buffalo and arrived in Cleveland on Sunday morning. At 5 P.M. we went into the cars, staid in them all night, we left Cleveland at 5:30 A.M. Monday morning arrived in Toledo about noon. We left Toledo at 7 P.M. for Chicago, arrived in Iowa City on May 1st. We camped 3 miles west of Iowa City and remained there one month during which time we were preparing wagons bow and oxen.



When Robert and Mary Holms, auntie and uncle of this family, died, they left their property to the McQuarrie family. This was a great financial help to this poor family. Hector, now 21 years old, was given some of this money and sent to Utah in 1855 to build a home and get ready for the family to come later. He settled in Ogden, Utah. On the 19th of March, 1857, the rest of the family left Grenock, Scotland and sailed to Liverpool, England. They stayed here 8 days and then sailed on the ship "George Washington" for Boston. On the 1st day of May they all left Boston. They crossed the plains with other pioneers from Scotland. Grandmother Mary was 10 years old. She and her mother walked part of the way across the plains.



Excerpts of 1857 Robert McQuarrie journal crossing the plains


Mon-Jun 1: Left Iowa City
Tue-Jun 2: Settled (negotiated) with James A. Little for Wagons & Cattle
Wed-Jun 3: Capt. Jesse B. Martin Co. left with 31 wagons
Sun-Jun 7: Strangers came to see the Mormons
Mon-Jun 8: Rain made roads bad for travel
Wed-Jun 10: One wagon upset, no one hurt, camped west of Newton, Iowa
Sat-Jun 13: Gave money to Brigham Young on stage coach. Did wash
Sun-Jun 14: Many visitors came to see the Mormons
Tue-Jun 16: Rain, 1 yoke of cattle lost
Wed-Jun 17: Laid over all day for rain
Sat-Jun 20: Met 4 brethren from SLC stopped on their way to Canada
Mon-Jun 22: Banford child died 11 am, camped 20 miles east of Florence
Tue-Jun 23: Camped at Council Bluffs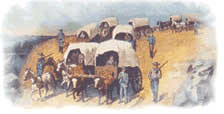 Wed-Jun 24: A wagon upset in creek, crossing Missouri to Florence
Thr-Jun 25: Took on provisions for plains
Fri-Jun 26: Bought yoke of cattle for $90
Sat-Jun 27: Rain - could not start
Sun-Jun 28: Hunted for stray cattle before starting
Mon-Jun 29: Camped near 18 wagons of apostates
Tue-Jun 30: Hunted lost cattle then crossed the Elk Horn River
Wed-Jul 1: Swindle axel broke, make a new one, Bro. Gillies (88) buried
Fri-Jul 3: Elder John Taylor Co. came and camped with us. Wagon wheel ran over S. A. Pymm arm and broke it
Sun-Ju1 5: Double teamed crossing Loup Fork river "Mother fell in the water and the wheel went over her loin and diabled her from walking"
Tue-Ju1 7: The Turner wagon upset. Found a note posted on a bone about Evans handcart co. ahead.
Wed-Ju1 8: Found yoke of stray cattle.
Fri-Ju1 10: Martin wagon upset. Met SLC brethren
Sun-Ju1 12: Great number of buffalo. Thunder and rain at night stampeded cattle, lost 2/3 of them. Brother Latey trampled.
Mon-Ju1 13: Found all but 9 head of cattle
Tue-Ju1 14: Searched for cattle --- 4 brethren gone all night.
Wed-Ju1 15: After 21 miles today cattle stampede at 9 pm.
Thr-Ju1 16: Had 53 cattle, searched and found 80 of 87 lost cattle.
Fri-Ju1 17: Stampede, wagons jammed and broken, Bro. Howard run over and died. Other injured. Fault finders wanted to leave, had a meeting for all to speak their minds.
Sat-Ju1 18: Travelled 18 miles in peace and happiness.
Sun-Ju1 19: Mother had recovered and we camped at the Platte
Mon-Ju1 20: Found another note from the Evans Company ahead
Tue-Ju1 21: Flies very bad, 3 Indians want to trade horse for white squaw.
Wed-Ju1 22: Crossed the north fork of the Platte River
Sat-Ju1 25: Double team over sand hills
Sun-Ju1 26: Camped opposite Castle Bluffs
Mon-Ju1 27: 17 miles and camped 1 mile west of Indian camp
Tue-Ju1 28: 20 miles today, Chimney Rock in sight.
Wed-Ju1 29: 15 miles today, Chimney Rock in sight all day.
Thr-Ju1 30: 3 sisters hurt in a stampede
Fri-Ju1 31: 16 miles, camped opposite Scots Bluffs
Sat-Aug 1: Shoes oxen at start and then 13.5 miles
Sun-Aug 2: Met traders and traded some oxen
Tue-Aug 4: 3 were sent to Ft. Laramie for supplies
Wed-Aug 5: Cutler wagon upset, double team up a hill. Wed-Aug 12: Shode 3 oxen
Thr-Aug 13: Camped by the Platte, 1 mile from a bridge
Fri-Aug 14: Handcart company came over to us
Sat-Aug 15: Feed was 14 miles away
Sun-Aug 16: 14 miles today, camped at willow springs
Sun-Aug 17: 13 miles today, camped at Greenwood creek
Mon-Aug 18: 15 miles today, camped at Devil Gate Fort
Fri-Aug 21: Crossed the Sweetwater
Sat-Aug 22: No water for 16 miles
Mon-Aug 24: Road rough over rocky ridge
Wed-Aug 26: Camp by Pacific Springs. Met 70 men fro SLC to assist reat emigration. US troops close behind going to SLC to kill off Mormons.
Thr-Aug 27: Met 50 men from Provo
Mon-Aug 31: Camp at Green River
Tue-Sep 1: Travel to Black fork
Wed-Sep 2: Camp at Hams fork
Thr-Sep 3: Lost Ox which delayed start
Fri-Sep 4: Camp at Fort Bridger
Sat-Sep 5: Road very hilly
Sun-Sep 6: 3 men from Utah camped with us
Mon-Sep 7: Steep descents, Camp at Echo Crk
Tue-Sep 8: Camp on the Weber River
Thr-Sep 10: Camp at base of Big Mt.
Fri-Sep 11: Went over Big Mt. camp at base of little mountain.
Sat-Sep 12: We started at 7 AM, Bro Robert Baxter met us on the top of the little mountain, we went into SLC and camped on the public square at 2 PM. The Bro Baxter took us (my father's family) to his house and kindly entertained us for one week, during which time I went to Ogden and bought a farm of R. G. Bolding for $1000.


After the long, weary journey, they arrived in Ogden safely. How happy they were to greet their son and brother, Hector, whom they hadn't seen for two years. Robert had money enough to buy a 40-acre farm. He bought a lot on which they built a home for his father, mother, and family. Grandmother's parents lived here until their death in 1885.



Excerpts of Journal of Robert McQuarrie


Nov. 8, 1857: I was re-baptized by Elder Thomas Sprague at the Ogden bridge in the Ogden river, re-confirmed by Bishop Bunker. My bro. Neil was rebaptized at the same time, my Sister Agnes, Bro John, and my Mother were baptized at the same time.

Feb. 5, 1858: My sister Mary was baptized by Elder James S. Brown and confirmed by Bishop Edward Bunker.

Apr. 4, 1858: My father was baptized by Elder James S. Brown in Ogden river, confirmed by Bishop Bunker.


Grandmother Mary was a very pretty girl. She had black hair and her eyes sparkled with laughter. Her charming disposition gained for her the love of many dear friends. She lived in a good home for pioneer days. Her parents, brother, and sisters were kind, true and devoted to each other. Her mother was a very capable homemaker. She taught Grandmother while young in all the ways of good housekeeping. Here she learned the art of sewing, for she was an expert seamstress. Her needlework was finer than a machine could do. She was trained in all the arts of weaving, suit making, and cooking. Her children told me that she had the art of making plain, simple food taste delicious. None excelled her in the art of thrift. She was truly a Scotch lady in every way.

Her education was very limited for a girl, because she married early in her life. On the 20th of April, 1861, she married Edward Bunker as his third wife. This marriage has few parallels and one that staggers the imagination. For this girl of 15 years married a man 24 years older than she was. His first wife, Emily had at this time, 6 children; the second wife, Sarah, four children. The eldest son, Edward was just 6 months younger than Grandmother Mary. Grandmother never was to regret this marriage. She had a deep and abiding faith in the Gospel and believed in the principal of plural marriage. She came to know by experience that if this law were lived as God intended it should be, in honor and true live, it would refine and purify the soul as nothing else would. She loved her husband dearly. Grandfather Edward was a noble man, one of the stalwarts of this Church in its very beginning. Grandmother Mary always taught her children to love and obey their Father and to love Aunt Sarah and their children.



Excerpt from the story of Mary McQuarrie told by one of her granddaughters


The practice of polygamy is difficult for us to understand in our day. I am quite sure that my Grandmother Mary would have answered my questions concerning polygamy, just as my own mother did. After I was happily married, I said to Mother Viola, "Mother, I just don't see how you could have married in polygamy." Her answer was a revelation to me. She said in a kindly way but with firm conviction, "My dear girl, we were taught this law as a principle of the gospel, as you were taught the law of tithing. Your father honored his priesthood, he studied the scriptures. He believed in education for his family. He loved the Lord and I felt that plural marriage was a principle with a promise. I love your father and Aunt Kissy and Kissy's children."

We honor such wonderful women who were able to live this self-sacrificing principle. Never speaking of the difficult days but recalling to us only the many good experiences. Grandmother must have know by instinct that "Happiness in marriage was not only in finding the right person---but in being the right person." Only by being the right person was she able to live in the homes of the two other wives and become a faithful wife and a devoted mother.



In the fall of 1861 Father Bunker took his wives and children to St. George and Santa Clara. Here Grandmother was to really know and experience the hardships of pioneer life. In 1863, her son Martin was born. At this time she was living with her brother, Hector, who moved to St. George at the same time the Bunkers did. She was seriously ill when Martin was born. Grandfather gave her a blessing and she and the baby were saved through the prayer of faith.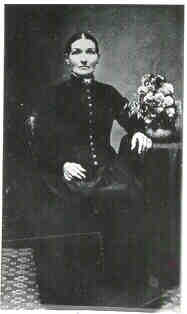 In the next 13 years she was blessed with four more children, Viola, John Francis, and Mary Emily. There isn't too much known of the intimate experiences of Grandmother from the time her son, Martin, was born until she and her family went down on the Virgin River with Grandfather Bunker. We do know, however, she moved about from St. George to Pine Valley then to Panguitch and back to Santa Clara. She helped all she could with cheese and butter making, carding, spinning and sewing for their growing families. Grandmother had a pleasing personality. She gave all around her a cheery smile, a kind word, and a helping hand. Uncle Ezra tells me she often read from her book of Scottish poems to them and then sang the beautiful Scotch songs, "Annie Laurie", "Coming Through the Rye", and "Auld Lang Syne", and many a time she had cause to sing "Ye Banks and Braes of Bonny Doon, How can ye bloom so fresh and fair, How can ye sing, ye little bird and I so weary, full of care." What sorrows she had, she kept buried deep in her heart. They in no way marred her love for those around her, for well she knew every heart has it's own sorrow. She loved the Gospel dearly; for this she came so far from that beautiful country, Scotland. Constantly she prayed to her Father in Heaven for strength and courage to carry on under trying circumstances.

In the spring of 1877, she with her children and Father Bunker, went to the Virgin Valley in Nevada. Here they build her first home on the hill. It was nothing but a shed with a wagon cover over her bed for shelter from the rain and sun. Her next home was at the old mill site just down off the hill from where they lived before. Uncle Eddie and Uncle Myron Abbott with their families and Grandmother and her family lived here in a dugout, a wagon, and one small room.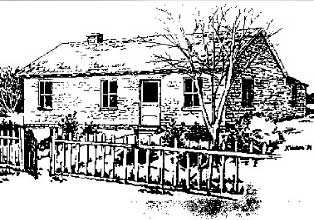 As soon as the land was cleared and the town site was laid out, Grandmother moved into town. Her one lumber-room was put near the old Earl home. Her meager furniture was 2 beds, a small stove, wooden benches, and a table. The cracks between the upright board walls were so large the sand poured in during the hard windstorms. Grandmother and her children scraped the sand out with a hoe. Her sons, Ezra and Robert, were born in this home. Grandfather gave her a large lot in the heart of this new town, Bunkerville. Her lumber-room was pulled down on this lot. Uncle Ezra told me he remembers that Uncle Eddie said to him and his brothers, "Come on boys, we must build your Mother a better home." Uncle Martin was now about 20 years old, and he no doubt assumed the major responsibility of the building of this home. It was, at first, one large adobe room with a cellar underneath; later two rooms were added. Grandfather gave Grandmother and her sons a farm. They farmed this land, hauled freight, and carried the mail, and worked at odd jobs everywhere they could to make a living.



Excerpt from the story of Mary McQuarrie told by one of her granddaughters


It is interesting to read what Grandfather's oldest daughter Emily Bunker Steele, said about Grandmother Mary, we quote: "She was my father's wife---I, his daughter, we were about the same age. I loved her like a sister. Once she helped me run away from a beau I didn't want to go out with. She took her baby boy, Martin, and we climbed out the back window and mae our way to the dance without him." They left him conversing with the family as she didn't have a planned date with him.



Grandmother and her children dearly loved Uncle Eddie and Aunt Minta. Well can we understand this, for he was their elder brother, their Bishop, and advisor in their work, business, and farming. How providential that this noble man assumed the role of father to this growing family. Their own father was now well along in years and had grown worn out with the hard work for his Church, his government, and his family. He didn't have the physical strength to assume all that must be done. He did love and appreciate his wives and children. He prayed as a righteous man could that they would grow to be noble men and women, true to God, loved ones and country. Grandmother's son, Hector, was born in this new home and soon after it was built. Three or four years later, Edward and Israel were born. These two boys passed away as babies. The loss of these babies was a real heart breaking experience for this loving mother. She was able to endure this sorrow like others, through prayer.

All was not hard work and trials in this town. There were many socials, rag or quilting bees, programs, and dances. Mary went to all whenever she could and took her part in making the pioneer life happier. To illustrate: The Orange Leavitt family decided to have a cotton-picking bee in their field about a mile from town. They invited every adult in the town but grandmother. They thought she wasn't well enough to go. She heard of their plans. She said nothing and made her own plans. When all the folks drove into the field at sunrise the next morning, there was grandmother in the middle of the field picking cotton and laughing at them for the joke she played on them. She had walked down alone earlier.

Grandmother held but one position in the Church that I know of. She was a Relief Society District teacher for 12 years. She was released from this position on the 21st of July, 1891, because of her many duties as a nurse. She helped all she could with their activities. She donated tie and money when needed. Often in their meetings, she bore her testimony of the divinity of the Gospel and their need to be faithful in keeping God's commandments and teaching their children to do right.

In the Relief Society meeting on the 19th of March, 1884, President Emily suggested the Relief Society sisters hire Mina Gray to train Grandmother and Marish Leavitt to be nurses. Mina Gray was a trained nurse from Scotland and was there visiting at the time. The sisters did as was suggested. They furnished Mrs. Gray a room and food for about 3 months, and she trained these women to be nurses, or midwives as then called. Grandmother was 38 years old at this time. She was set apart for this calling on the 20th of September, 1885, by Amasa R. Lyman, Brother Hatch, A. W. Ivins, and my father, Joseph I. Earl. Nursing was her contribution to the community and many times she was called to go to other towns.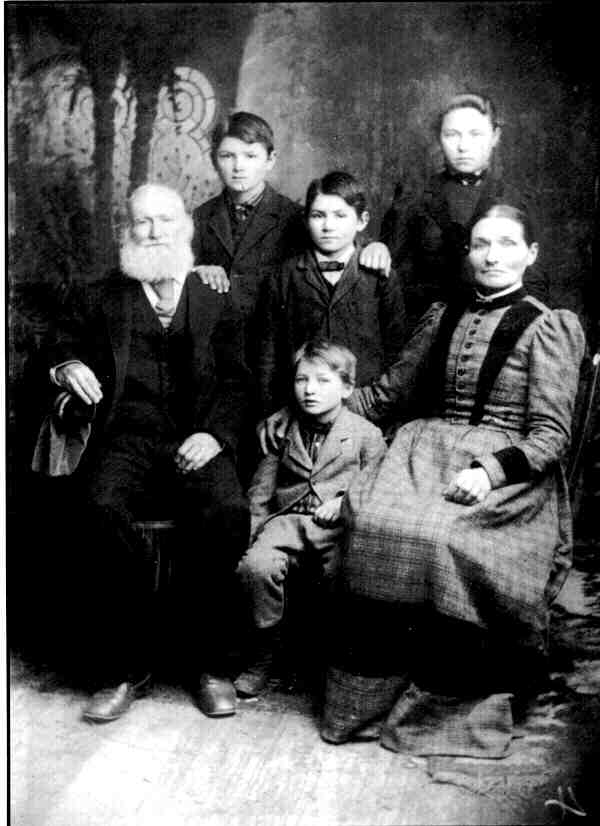 This noble service she did not do alone. Heavily she leaned on her Heavenly Father for the strength, ability, and inspiration as to the right thing to do. She prayed for wisdom and judgment in this serious business of bringing children into the world. She was called on many times when babies, children, or adults were ill and even for sick animals, for help in doctoring them. She gave comfort and solace to sorrowing loved ones and friends. Before Aunt Abbot passed away, she asked grandmother to take her baby and raise it. This grandmother gladly tried to do, but all to no avail. The baby later passed away. Luke Whitney told me the Lord and Grandmother saved his mother when his brother Sthol was born. She stayed in their home one month to nurse her until she was well. She was very kind to gypsies that came into town. This incident is so like her. A gypsy man stood outside the gate of their lot with Hector and Carlo, the dog, on the inside keeping him out. Grandmother heard the commotion and went out to see what caused it. The man soon had Grandmother understanding what he wanted. But Hector pleaded with her not to go with the man for fear he would harm her. Grandmother reassured Hector that she would be all right. Then she went with the gypsy a mile below town. She delivered the mother and cared for her and the newborn baby. For the next 10 days she walked each day down and back to care for them both.

Uncle Ezra told me that one time some cattlemen from St. George came down near Bunkerville to take care of their cattle. On their way they found a man who was bleeding very badly. They rushed him to Grandmother. She soon stopped the bleeding, then cared for him a few days. He went on this way a very grateful man. Another time, word had come that the marshals or sheriffs were coming to town. Some of the men hurriedly took their wives to the mountain. Uncle Steven came for Grandmother to take her also. She knew there was a mother in town expecting a baby anytime, and would need her help. She refused to go no matter how he urged her. Fortunately, the marshal did not come. For over 10 years this loving patient nurse went from home to home---day time and night time---wind and storm, heat and cold, to care for the sick. Her daughters Viola and Mary, assumed the housework and often worked in the field and garden. Her sons were good workers too. They were a normal family though, and in the process of growing up, they often needed the firm discipline this gentle mother could give when occasion demanded. Her loving care and noble example and proper discipline surely won, for she reared to womanhood and manhood two lovely daughters and six fine sons.

Her son, Martin, was the first young man to go on a mission from the Bunkerville Ward. Her sons John, Ezra, and Robert, went on missions also. Robert went on his mission after the death of his mother. Grandmother only made two trips that we know of in her lifetime to visit her parents and loved ones in Ogden. In the early days, it took a month by wagon and team to make the trip. She went once when Uncle John was a baby. The last time she went to Ogden to meet Uncle John when he came off his mission. She was taken by teams to Modena, then she went by train to Ogden. When she got off the train, no one was there to meet her. She walked over to a policeman standing near by, put her arm in his and said, "I am not going to let go until you take me where I need to go." This he gladly did. Who would refuse such a charming woman? They had a wonderful visit with her loved ones. Her parents had passed away by now. When Uncle John and Grandmother came back to Modena, Uncle Ezra was there to meet them. They all went by buggy and team to Gunlock to visit some more relatives. While they were there, Uncle Ed Leavitt and Aunt Elethier Leavitt notified all the town folks to come to the church. Uncle John reported his mission to them and gave a wonderful gospel sermon. How happy his mother was to hear him preach. ON their way home, they called on their friends and loved ones, especially calling on her brother, Hector, in St. George, who had teen so kind to her all her life. He was the only one of her loved ones in the Dixie country. A few years later, Uncle Ezra went on a mission. While he was on his mission, Grandfather Bunker, Aunt Emily, her son Francis and his wife, and many others went to Mexico to live.

A dear friend told me she remembers being in the special meeting and program that was held for all the dear relatives that went to Mexico. She said it was just like a funeral. Everyone was so sad to have so many loved ones leave this town at once. Needless to say, this was a sad parting for Grandmother and her family. Grandmother Mary never saw her husband again, because he passed away soon after they arrived in Mexico.

For several years, Grandmother hadn't been feeling too well. Sometimes when called to homes of the sick, she would have to sit and tell others what to do. Steadily she grew worse. Her sons and daughters took her to the doctors in St. George and Cedar City. They could not help her. Several times through the fasting and prayers of her family and the Ward members, she would rally and be able to walk around. Later she was seriously ill. During her long serious illness, the dear friends and relatives in Bunkerville helped every way they could to care for Grandmother. She was never known to complain of her suffering. Her faith and trust in her Heavenly Father was sublime. She gave to her posterity a powerful testimony of the truth of the Gospel, and an example of righteous living that should stimulate her grandchildren and great-grandchildren to increased devotion for righteous living. I well remember her suffering. Nettie and I took turns staying with Aunt May where Grandmother lived. We helped all we could in the home. This was a sad experience we have never forgotten---to watch our grandmother suffer so much. What a strength her beautiful, patient life has been to me through all my trials. The pain was so severe in Grandmother's back, she couldn't lie down very much during her illness. She knelt by a rocking chair with her head resting on pillows to get sleep. Her knees were so bent and rigid that when she passed away, they had to put weights on them in order to get the coffin lid down. She surely went through the furnace of affliction. Her children sorrowed and suffered with her until she passed away on the 2nd of November, 1906. The funeral was held November 3, 1906. The speakers were Uncle Eddie, J. I. Earl, Henry Leavitt, Samuel Wittwer, and William Abbott. The pallbearers were---her sons---Martin, John, Ezra, Robert, Hector, and Uncle Eddie. Her son, Francis was in Mexico, though he did come back to see her once during her illness. What a noble mother they laid away. Her children found in her a wisdom seldom at fault, a patience unwearied, a trust unfailing, a love boundless and unfaltering, and a faith in God indomitable and unimpaired, though she had been sore-pressed and tried. Her faith in God was sublime. One could not know this little woman, so humble and sweet, without knowing that when she approached---God listened.