Andrew (Andy) Edward Thomson was born in Ephraim 11/18/1886 to Andrew Jr. and Mary Louise Eyring Thomson in a little house north of Enoch Jorgensens. He was the second of seven children. They lived there until he was 7 years of age and then moved to Geroge Sorenson's place and lived there for a year. Andrew had typhoid fever when 8 years of age and missed a year of school. While they were building the home where Uncle Leonard Thomson lives, Aunt Mille and her 2 daughters Theresa and Beatrice lived with them for a year.

Shortly after moving into their new home, Grandpa Thomson was called on a mission to Germany (07/19/1896). Andrew was 9 years of age at the time. His job was to haul wood from the mountains, with the help of his grother Eyring. He also helped with the farming, plowing with a hand plow. Grandfather Thomson's mission was cut short because of illness.

Andy Thomson was very good with leading men-they all liked and respected him. He worked in the forest service as a foreman, building fences. Then as a foreman in building the tunnel above Ephrain. He ran the cheese Factory in Ephraim until he got Typhoid.

On September 9, 1891, Gladys was born in Glenwood, Utah, to William and Sena Mortensen Wall. Her life spanned the time when people switched from horse and buggy to car.

Gladys was the oldest of five children: Gladys, Rhoda, Raynerd, Lynn, and Webber. Raynerd died at three months of age. The family lived on a farm south of Aurora, Utah until Gladys was 9 years of age, and rode to school on horseback. Grandfather Wall worked on the first railroad that came into Aurora, while living on the farm. Gladys, Rhoda, and their parents rode on the railroad engine to Salina when it first came to Aurora.

They then moved into Aurora and lived in a three-room house. Gladys would ride in the buggy up to Ephraim to see her Grandmother Mortensen. Her mother died when she was 13 years of age. Uncle Ren and Aunt Dora moved in and helped with the family for a year. then Grandpa hired different girls to help care for the family. Her brothers Lynn and Webber drowned in the Sevier River. They had gone to take the cows to the pasture, and on the way back had stopped to go swimming. One had got into a whirlpool, and the other tried to help him. Both were drowned (ages 9 and 6). Lynn was found at 8 p.m., and Webber was found 2 miles down the river the following day at noon.

Aunt Pearl came to help after the tragedy, and married Gladys' father in December of that year (1907). Gladys came to Ephraim when she was 18 years old and stayed with Aunt Tenna and Grandfather Mortensen, attending Snow Academy from 1909 to 1911. She met Andrew at a dance and went with him for about a year and a half before they were married. That year she made her first trip to Salt Lake with Andrew for Conference and went on a tour of the city in a car, her first car ride!

Andrew was 6'6" tall and weighed well over 200 pounds, but was well proportioned for a BIG man. Gladys was 5' tall and weighed 160 in her old age. They were very compatible as a couple; in fact, grandchildren don't ever remember any arguing or fighting between them.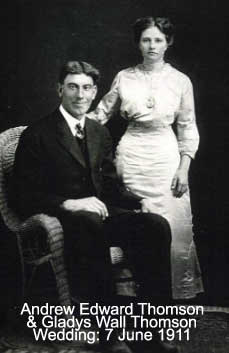 Andrew and Gladys were married 06/07/11 in the Manti Temple by Andrew's father. They spent their honeymoon at Fisth Lake in July. They lived in Siguard from June until September, and then moved to a home next to where Grandfather Mortensen lived, where their first child Elva was born. Then they bought the home next to Uncle Wells Thomson. Andrew worked at the creamery. Two more children, Thelma and Karl were born. Then the family moved to the old Thomson home on the corner of the College Block. Three more children were born at this place: Garth, Afton and Norma. Andrew contracted typhoid again and had to give up working in the creamery, so he turned to farming.

Andrew was sick for about a year with typhoid, and it was about this time that Snow College officials decided they wanted the property where the home was located for the President of the College. They traded Andrew for the old Bishop's Storehouse home on Main Street, where the family moved. Teb the youngest son was born there. The Depression came, and there were several years of struggle. They alwasy had enough to eat because of the farm and farm animals, but dollars were hard to come by. Christmases were very tight, with gifts of only a couple of pieces of candy.

Their youngest son, Ted, was stricken with Osteomyelitis when just 6 years of age. He battled this for 13 years.

Andy suffered a stroke 09/10/62 in the morning. Most of the family were in the home when he passed away early the next morning: September 11. He had fairly good health previous to this, except that he suffered a few spells where he would forget, but then his memory would return. He was 75 years old when he died. After Andy's death in 1962, Gladys lived alone in the house on Main Street. She died August 19, 1975, in Salt Lake.